Frontier Publishing Latest Book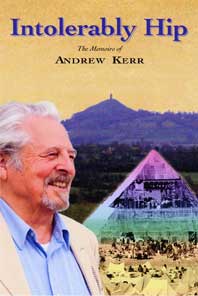 Frontier Publishing Latest Book

Intolerably Hip
Andrew Kerr

Andrew Kerr is the man who, with Arabella Churchill, put on the Glastonbury Fair of 1971 and linked it to the solstice and the sacred landscape of Avalon. For years he has been consulted by authors and archivists in pursuit of the ultimate festival history and now he has written a book about his life. It is called 'Intolerably Hip' and it's published on 12 May 2011, close to the 40th anniversary of the unforgettable fair.

There seem to be two or three lives here, that of a boy on a farm in the 1940s, another of the young researcher for Randolph Churchill, son of Britain's hero, in the 1960s, and then the hip fest-connoisseur who started Glastonbury Fair in 1971. The eighties, nineties and noughties follow with humour, patience and adversity before his recent return to Glastonbury. Looking back down the decades Andrew Kerr is writing about our lives too. He describes the uncertainties of our era yet reminds us of the importance of great gatherings and shared experiences.

As autobiographers go, Kerr is an ideal type, say the publishers. 'He's generous yet light-handed and understated at turns while recounting some tricky situations in a life of opposites. The pages are enlivened by contradictory characters, from rock stars, music lovers, crofters and druids to world statesmen, royalty, trillionaires and bloodthirsty generals. It's a good story and he's a storyteller through and through'.
(Click on blue title for full description and more pictures).

12 May 2011
ISBN: 978-1-872914-49-7. £14