Frontier Latest Book ONE:
British Sculpture in India ~ New Views and Old Memories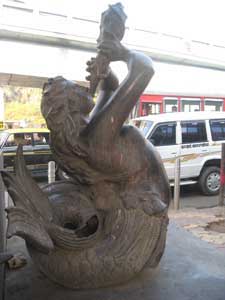 British Sculpture in India ~ New Views and Old Memories
Mary Ann Steggles & Richard Barnes
h/b, Dec 2011
ISBN: 978-1-872914-41-1. £50

When Mary Ann Steggles began her dissertation on the subject of statues exported from Britain to colonies in South Asia, the Canadian post-graduate, now Professor of Art History, had picked a subject which had fascinated British and Indian historians for some time.

It concerns a parallel collection in India to the sculptures in the streets of Britain, dating from 1790-1940 and coming from the same esteemed sculptors. Over two hundred marble and bronze figures were shipped, including works by Bacon, Baily, Banks, Bell, Boehm, Brock, Chantrey, Flaxman, Foley, Frampton, Gilbert, Jagger, MacKennal, Marochetti, Noble, Pomeroy, Kathleen Scott, Thornycroft, Weekes, Westmacott and Woolner.

Despite the efforts of respected authors and wishful publishers over many years, a catalogue of obstacles prevented the subject from being drawn properly to book until now. However, sculpture had risen in public interest, due in some way to the publication the late Jo Darke's Monumental Guide to England & Wales and Benedict Read's Victorian Sculpture, which showed that during a century of commemoration a very capable and Art schooled group of British sculptors came to the fore. Darke and Read were co-founders of the Public Monument & Sculpture Association (PMSA), which became the driving force of public sculpture interests in Britain and without which the present title would not be attempted.

The aim is to present the reader with new and sometimes first views of the 'collection'. This involves some debunking as there are misconceptions, for instance that the sculptures are disregarded in the host nation. It is an easy story for any journalist with a picture of an old statue covered in cobwebs in some out of the way godown. Sit transit gloria mundi etc,.
The reality is that the great majority of sculptures by British artists have survived, largely due to their recognised art qualities, and not because of any obligation. They are part of Indian history and belong to the Indian government. Many were originally commissioned and paid for by Indian nationals. Others, a few, have been removed to places of safety, away from the fury of motor traffic, and in special cases repatriated. Decisions about some of the statues still have to be made and this book is likely to be first reference in future discussions between numerous governing bodies, city planners and state museums in India. There are post-colonial implications which informed writers will discuss elsewhere, but here the viewpoint is concerned with art and history seen from a present day perspective.

British Sculpture in India ~ New Views and Old Memories has four constituent texts. In order of sequence these are an Introductory Essay by the author and historian, Professor Tapati Guha-Thakurta, of the Centre for Studies in Social Sciences in Calcutta, placing the general subject in a modern context in India. This is followed by a Preface by Benedict Read, Senior Visiting Research Fellow at the School of Fine Art at Leeds University, Former Chairman of the PMSA and author of Victorian Sculpture, the primary source of inspiration. Next comes a list of the sculptures and about 200 concise descriptive essays written about them. Each entry is structured with the title of the work, followed by maker's name, date and location before a pithy outline in less than 300 words, entwining subject and artist biographies, sculpture anecdotes, design details and reports on condition. The descriptions have a clear format which avoids confusion arising from dozens of Empress Victorias and other duplications, since some statues have been moved more than once. They are prepared by Richard Barnes, who has written about 19th century sculpture in books and papers. He combines this interest with a general sense of British colonial history and the illustrative dynamic of photography, which he studied at the old Regent Street Poly in the days of densitometery and glazing drums. He is a fellow of the Royal Society of Arts and the Royal Geographical Society and has been for ten years an ordinary member of the PMSA. He compares Bombay's 'Flora Fountain' with the best and contends the equestrian works in India surpassed those in the mother country.

The scope of this part of the book, which is both inventory and gazetteer, is widened to include the figurative marble memorials in the Anglican cathedrals and churches in Madras, Calcutta and Bombay, adding a number of earlier works by Georgian sculptors such as Bacon Jr and John Flaxman. In terms of illustration this adds tigers, palm trees and mourning madonnas to the volume of public statues of viceroys and generals.

The most extensive and important part of the book is the writing of Dr Mary Ann Steggles, Professor of Art History at the University of Manitoba, the acknowledged expert in the field with twenty years' experience of the subject and a myriad of research visits to India. She offers the full historical base and account of the commissioning and exportation of statues from Britain to India. Her research on British statues in South Asia has been published in many journals and formed the basis of conference talks such as those for the College Art Association and the 19th Century Studies Association. She authored a small book on the topic in 2001 as a fundraiser for the preservation of British graves in South Asia and continues to serve as a consultant on the history of the statues for various institutions and governmental agencies. It is an updated and carefully edited piece of writing, extending beyond the original thesis and partly integrating with numerous retrospective articles prepared for publishing in the PMSA's Sculpture Journal, History Today and in reference books published by Ashgate Publishing and Marg Publications (India). Mary Ann Steggles provides a historical base and account of the commissioning and exportation of sculptures from Britain to India, distinguishing statues and discussing their overall dispersal, commissioning, and present status.

British Sculpture in India ~ New Views and Old Memories is designed to be a pleasure to look at with a high concentration of photographic illustration. Steggles' explanatory chapters and the concise essays by Barnes are interspersed with hundreds of pictures, varied in size, some of which are bled to full page extent. Many are historic plates from previous centuries and these are balanced with colour photographs made by Barnes in 2010. Placed within and around the text, some depict a reference, others are all-in-one 'record' shots, with selected enlarged details - for instance a marble tiger, or the head of a bronze viceroy's horse. The selection, treatment and placing of the photographs are designed to 'show off' the works, and exhibit the skill of the artists.

The authors' combined intention is to provide the breadth and academic depth of Professor Steggles' studies with the more popular approach of Richard Barnes. Authoritative, illustrative and bulging with histories, here is the only book to record and reflect the largest 'collection' of British sculptures outside Britain. A rare book in the making, it is commended to devotees of sculpture in five continents and anyone interested in the endless peculiarities of India's connection with Britain.

British Sculpture in India ~ New Views and Old Memories
ISBN: 978 1872914 41 1
380pp, 200+ colour illus December 2011. £50 h/b