Frontier Latest Book ONE:
British Sculpture in India ~ New Views and Old Memories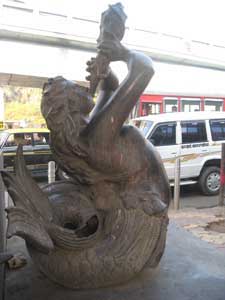 British Sculpture in India ~ New Views and Old Memories
Mary Ann Steggles & Richard Barnes
380pp, 280 illus (col), h/b, Dec 2011
ISBN: 978-1-872914-41-1. £50
When Mary Ann Steggles began her studies on the subject of historic statues exported from Britain to colonies in South Asia, she picked an interest which has fascinated British and Indian historians. It concerns a parallel collection to the sculptures in the streets of Britain, with works by Bacon, Baily, Banks, Bell, Boehm, Brock, Chantrey, Flaxman, Foley, Gilbert, Jagger, MacKennal, Marochetti, Kathleen Scott, Thornycroft and others.

Presenting new and sometimes first views of this 'collection', the book is introduced by Tapati Guha-Thakurta, placing the subject in a modern context in India. It has a Preface by the eminent sculpture historian, Benedict Read, author of 'Victorian Sculpture', before 200 concise descriptions by Richard Barnes, entwining subject and artist biographies, sculpture anecdotes and reports. However, the core of the project is the writing of Mary Ann Steggles, offering the historical base and account of the commissioning and exportation of statues from Britain to India. The book's pages are designed to be a pleasure to look at, as old plates are balanced with newly commissioned photos in a treatment which 'shows off' sculpture and the skill of the artists.

Authoritative, highly illustrative and bulging with histories, here is the only exposition of the largest amount of British sculptures outside the country. A rare book in the making, it is commended to devotees of sculpture in five continents and anyone interested in the endless peculiarities of India's connection with Britain.