Frontier Latest Book:
The Glorious Dead ~ Figurative Sculpture of British First World War Memorials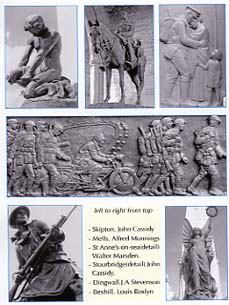 The Glorious Dead ~ Figurative Sculpture of British First World War Memorials
Geoff Archer
416pp, 260 illus (mono), p/b, Nov 2009
ISBN: 978-1-872914-38-1. £30

Certain events are so momentous that nobody can at first fully comprehend. This was true when attempting to assess the terrible war of 1914-18, but also of the period afterwards, when the people of Britain tried to come to terms with how to remember their dead. In most places the answer was through an inert obelisk, cross or slab, but in larger towns the decision was made to impart remembrance through figurative sculpture. It is the largest input of public sculpture Britain has ever known.
The Glorious Dead presents the viewer with the sculptor's task, naming the variety of ideas, emotions and motives and how they all translated into imagery fit for the town square and the carved list of names. Looking at hundreds of pictures, one memorial shows a dead body under a sheet, another has a tommy with a bayonet at the ready; here the figure of winged Victory towers above our heads while elsewhere mothers and daughters in metal and stone weep for evermore. Why the differences? And why has there never been an art explanation until now?

Geoff Archer is an art teacher and practising painter who took over ten years to research sculpture associated with Britain's 1st World War Memorials. His book opens with images of volunteers leaving home. Then follows 'The Realities of War', where we see sculpted machines and trenches as in CS Jagger's Artillery Memorial. The last part, 'Remembering', has figures of 'Peace', 'Victory', or 'Honour'' and in a rare statue in Skipton, John Cassidy's allegory of youth breaks a sword over his knee. The photos, mostly those of the author, not only illustrate the text but stand alone as art images.

The author notes the 'critical dismissal' of memorial sculpture but seeks out certain WW1 memorial figures which stand comparison with the best public sculpture anywhere. In fact, while already acknowledged masters such as Frampton, Toft and Drury designed memorials, there were others like Jagger and Ledward who made their reputations with them in the 1920s. We also hear of less known sculptors such as John Angel, A.Carrick, Walter Gilbert, Louis Roslyn and Hermon Cawthra.

Women are shown not just as mothers and daughters of the slain, but also as nurses, munitions workers, even goddesses and angels. Add to this the importance of women in decision making and fund raising for memorials, the temporary suspension of Suffragism and the fact that some of the sculptors were women. To name a few these were Phyllis Bone, Jennifer Delahunt and Kathleen Scott.

Geoff Archer has filled a missing gap in 20th century sculpture studies, redeeming the war memorial sculpture of the 1920s to the canon of British art history. To open his book is an initiation.
________________________________________________________
Link
Also see link (LINKS PAGE) to 'Writing' on www.geoffarcher.co.uk

~ Responses, reviews and recommendations